Road the WrestleMania will get a little clearer after Sunday!Alright, the SmackDown live crew has their last PPV before WrestleMania on Sunday.  They are bringing back The Elimination Chamber!  Basically it is a combo of a cage match and a Hell in the Cell match with its down twists and turns.  Great stuff I tell ya!!
Quick rules recap on the Elimination Chamber match.  The match consists of 6 superstars with 2 starting in the ring and the other 4 locked in their own chamber.  Every 5-10 minutes another superstar will be released their respective cell.  No one knows who will get in when.  You could see these guys climbing all around this thing.  It's going to be a site to see, especially with the storylines that could come from the result.  Lets take a quick look at the other matches and some predictions.
Nikki Bella vs Natalya – Singles Match
This match doesn't really matter.  Entire deal stems back to Survivor Series in November.  Don't really care what happens here but I do think it is a no brainer.  WINNER: Nikki Bella
Mojo Rawley vs Curt Hawkins
Another filler match here.  Mojo Rawley had potential in the tag team division until Zach Ryder went down but that's neither here nor there.  Not sure how Curt Hawkins got a PPV match but good for him.  WINNER: Mojo Rawley
Apollo Crews and Kalisto vs Dolph Ziggler – 2-on-1 handicap match
Interesting match here.  Not sure what the game plan is for the future but this should be entertaining for sure.  Crews is a solid talent who I think they under use.  Kalisto is the high flyer who has great moves and can give you the "what the hell did is just see" moment in a good way. Dolph is the try hard who won't quit but don't understand why WWE is making him a heel here.  Anywho, hard to go against the numbers here but I am going to anyway.  WINNER: Dolph Ziggler
Becky Lynch vs Mickie James – Singles Match
This should be a great match.  The build up here is Mickie James always interfered in Becky's matches dressed as a masked woman.  Mickie was out of WWE for a while but she looks like she is ready for a run.  Even though there is no belt on the line here I think this will be the best women's match of the night.  I really have no clue where WWE wants to go here.  I would imagine they take a break from Becky and roll with Mickie James.  WINNER: Mickie James
American Alpha (c) vs Heath Slater and Rhyno vs Breezango vs The Usos vs The Ascension vs The Vaudevillians – Tag Team Turmoil Match for the WWE SmackDown Tag Team Titles
This one seems like a time filler.  Rules in this match, start with two teams in the ring when one team wins another comes running in.  The tag team division is weak on SmackDown.  They need something to give it a little extra juice.  Doubt it will happen but we will see.  I see this very chalk here.  My guess comes down to American Alpha and The Usos.  WINNER: American Alpha
Alexa Bliss (c) vs Naomi – Singles match for the WWE SmackDown Live Women's Championship
Still trying to figure out how Naomi got this match.  She is probably one of the most athletic woman in the WWE but still, this one is out of left field.  This should be a good match for the ladies but don't see anything to crazy happening.  WINNER: Alexa Bliss
Luke Harper vs Randy Orton – Singles Match
Big match up here.  Orton joined the Wyatt Family late last year.  Pulled the "if you can't beat them join them" gag.  Ever since then Luke Harper and Orton haven't quite clicked.  They would ruin each other's matches and all sorts of other little things.  I got a feeling Bray will come out while Harper is beating the shit out of Orton.  This little interference will give Orton the window he needs.  Drop him with an RKO and that's that.  WINNER: Randy Orton
John Cena (c) vs AJ Styles vs Dean Ambrose vs The Miz vs Baron Corbin vs Bray Wyatt – Elimination Chamber Match for the WWE Championship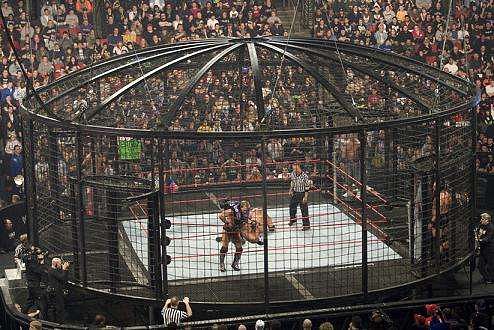 This is the big match of the night.  Very exciting stuff.  Went over the rules above.  Cena will be looking to retain the belt before Mania and an epic match up with Randy Orton.  Styles will be looking for payback on Cena.  Ambrose is looking to be a dual belt holder, current Intercontinental Champion.  Not 100% sure where The Miz and Baron Corbin fit in.  Need 6 people for this match so I guess they found two extras.  Bray Wyatt is interesting because if he wins because he would face Randy Orton at Mania.  That would be huge.  Have Orton turn on the Wyatt family at Mania.  Getting a little ahead of myself here.  Alright, last 2 standing will be Cena and Wyatt.  WINNER: John Cena
There you have it.  The road to WrestleMania will be very clear at the end of the night, at least on the SmackDown side.  Should be a solid night of fights with one hell of an ender.  Tune in Sunday night at 8 pm on the WWE Network.  See you there.